美国《塑料新闻》专访中国热成型CTFA -20180828
---
日前美国媒体-《塑料新闻》在得知4月份中国成立了中国合成树脂供销协会热成型分会之后,便直接联系到了何理事长,希望对于这个刚诞生的协会来做采访与了解,目前已于8月28日正式发布相关内容。小编将内容分享出来,也希望大家对于CTFA有更深一点的了解。
日前美国媒体-《塑料新闻》在得知4月份中国成立了中国合成树脂供销协会热成型分会之后,便直接联系到了何理事长,希望对于这个刚诞生的协会来做采访与了解,目前已于8月28日正式发布相关内容。小编将内容分享出来,也希望大家对于CTFA有更深一点的了解。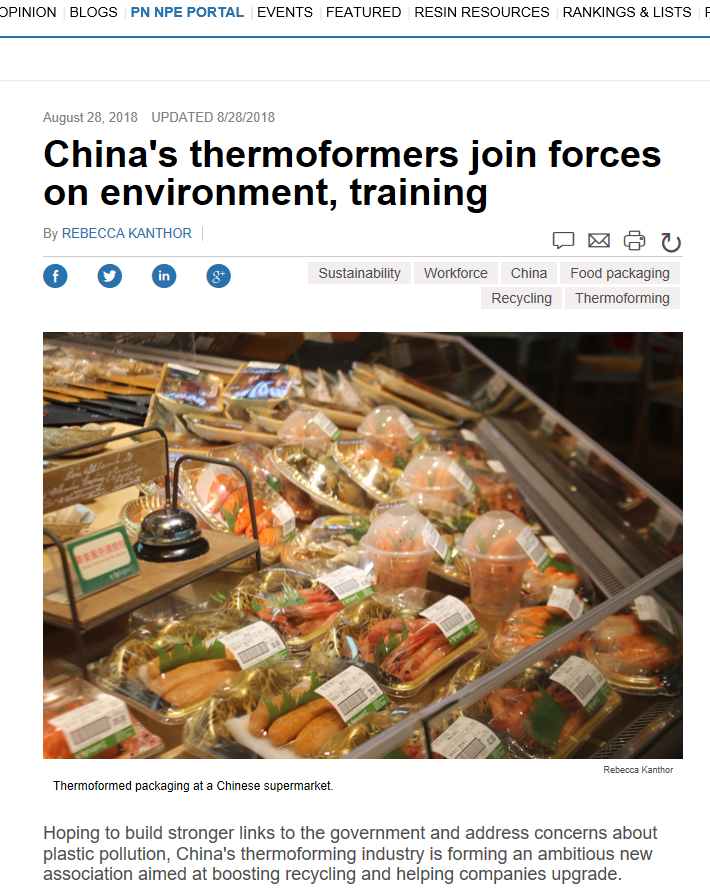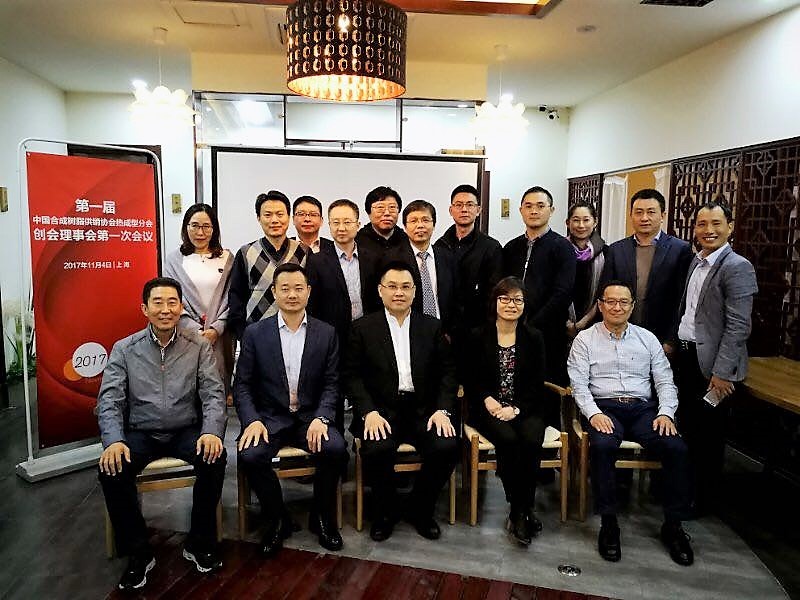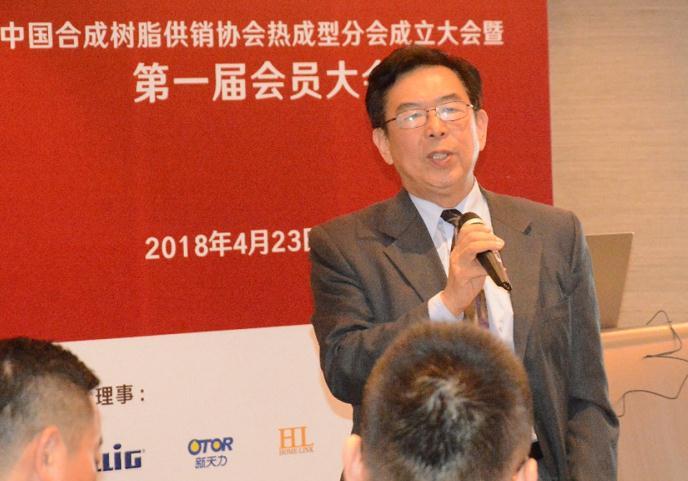 原文请看这里▼ ▼ ▼:
www.plasticsnews.com/article/20180828/NEWS/180829898/chinas-thermoformers-join-forces-on-environment-training
内容如下:
Hoping to build stronger links to the government and address concerns about plastic pollution, China's thermoforming industry is forming an ambitious new association aimed at boosting recycling and helping companies upgrade.
Leaders of the China Thermoforming Association said their new group wants to work on several fronts, including building a recycling demonstration base, working with the government on skilled worker shortages and creating national standards for thermoformed products.
"We hope to show [the] government that thermoformed plastic products can be still environmentally friendly if we do recycling systems correctly or [use] biodegradable thermoforming materials," said CTFA President Ben Ho, and an executive in the country's plastics machinery industry.
"We can force the machine makers to have higher standards, and we can help China reduce its plastic pollution," he said.
CTFA believes the thermoforming sector has a good story to tell about its products, but with China getting tougher on plastics in the environment — from banning imports of overseas plastic scrap to limiting plastic bags in Chinese grocery stores — the industry wants to step ahead of any concerns around its thermoformed packaging in food containers, consumer products and other applications.
Ho, who also is president of GSR International (Haining) Ltd., the sole sales agent in China for German thermoforming equipment maker Illig Maschinenbau GmbH, said the group wants to set up a demonstration base in eastern China to model best practices across the supply chain.
He said that would include all segments of the industry, from resin, extrusion, thermoforming, tooling, printing and packaging to recycling.
"We try to reduce the harm to the environment," he said, and that means "modern, clean production of machines with international standards, creating a national hygiene standard, and a closed loop recycling system with the government."
The group publicly launched at Chinaplas in April and has an annual budget of about 1.5 million Chinese yuan ($218,000). Ho was interviewed in early August.
Beyond trying to better address environmental issues, Ho said education is a priority. The industry does not have enough qualified thermoforming professionals.
CTFA will host a training program Sept. 24 at the Zhejiang Institute of Mechanical and Electrical Engineering, sponsored by 15 companies, among them China Petroleum and Chemical Corp. (Sinopec) and Chinese PET maker Zhejiang Wankai New Materials Co. Ltd.
"We aim to establish the first thermoforming education in China in the next three to five years," Ho said. "Until now we have no chance to find professional technicians for our industry. We pay a lot of money to bring injection industry professionals to work in thermoforming."
CTFA plans to establish courses at local universities, sponsor trainings and establish relationships between universities and machine makers, as well as try to link Chinese universities with European universities.
The goal is to promote growth by better standardizing the industry in China, Ho said.
"We need the government to make national standards," he said. "When the standards are higher, those producers with higher standards have better business. [Currently] we have big competition on price. People can't understand why your product is more expensive. We need to do it via national standards."
Thermoforming 'happy hour'
Ho said China's thermoforming industry has a 30-year history, with the very first domestic machines modeled after European equipment.
The first 10 years were a "happy hour" for domestic machinery companies, Ho said: "As long as you make the machine you can make product and profit. There was demand but not enough supply."
The second decade saw internationalization and become a "happy hour" for international machinery manufacturers selling in the country.
And in the past 10 years, Ho said, everyone has done well, but there is more competition between international and Chinese machinery companies.
At the birth of the industry, he said, everyone was concerned with making money. Now they want to take responsibility.
For CTFA, that means more of a focus on environmental issues, to help deal with plastic litter and pollution.
He acknowledged, however, that the question of how to best recycle thermoformed plastic in China or use biodegradable materials is no easy challenge to tackle.
China's recycling system is nascent at best and still relies on a network of informal recyclers with few standards. Ho said that establishing a trial location to show how thermoforming materials could be correctly recycled is essential, even if it's unclear what is the best system for large-scale recycling in China.
He suggested that uncertainty was a factor behind the current very stringent ban on imported waste plastic.
"The government is learning how to do recycling in a legal way. That's why they stopped imports," he said, characterizing the government's current thinking with the ban as "I can breathe. I can think about how to do it [in a better way]."
Looking for that better way is the main focus of a CTFA study trip to Europe in September, Ho said. The group will visit more than 10 companies and universities in Germany and Switzerland to view best practices.
"We [will] try to find the most successful [examples] and link them with the Chinese government," he said. "We try to find which system works in China, because the cultural background is different."
Next year the association plans to travel to Japan and the United States the following year to study more best practices and make connections as they move forward on creating a trial system in China.
Ho said the industry worries that mistakes in government policy could wind up hurting their industry, and they believe CTFA's agenda could help both the industry and China.
"We are trying to convince the government to investigate how other countries do it," he said. "This is what we are trying to bring to the government so that they see that long-term, recycling is the way."
CTFA has an eye toward duplicating its demonstration project in other cities in China, but Ho said they realize the results of the trial may not be easily replicated.
Using biodegradable materials and creating standards for those materials is an important part of the two-pronged approach the association advocates.
CTFA believes biodegradable materials could be a better solution in smaller, inland cities in China, where local governments may not have the budget to implement a top of the line recycling system.
"We believe in 10 years, smaller cities in China will not be able to follow the regulations of the central government because they will have no budget," he said. "Either you burn it or you bury it."
"We need a national standard for biodegradable materials, otherwise there will be fake biodegradable materials," he said.
Biodegradable materials could reduce the burden for those smaller cities, Ho said, while bigger cities could focus on recycling.
The association is bringing in all parts of the supply chain, which Ho said is unusual in China, and it wants to build bridges in what is a relatively small sector within the larger plastics industry.
"In order to make us different, we thought we would go for the whole industry," he said. "We can share the information between the manufacturing side and the end user. Foreign companies can find more suppliers in China. We try to build up the platform like a bridge."
In the end, Ho believes taking these actions will have a positive impact in China.
"If we can do something helpful in building up national standards via demonstration of plastic recycling system and high-end thermoforming process setup in the demonstration base as well as thermoforming education, it would be a win-win result for thermoforming industry and our nation," he said.